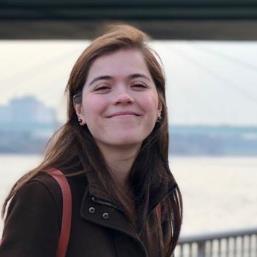 Jessica Dominiguez Alfaro - ESR 5
Jessica Dominguez is part of ETN-Charming as an early researcher in the project ESR 5 at KU Leuven, Belgium. The main goal of the project is to couple theoretical chemical concepts with practical experiences by means of creating an Augmented Reality laboratory for general and technical chemistry.
Jessica obtained her B.Sc. degree in Chemistry at Universidad Nacional Autónoma de México (2014), where she specialized in organic synthesis. Having been interested in both industry and academy, she joined in 2015 the Graduate trainee program at Croda International. There, she had the opportunity to learn from different areas of the company such as R&D, sales and marketing.
In 2017, Jessica started the M.Sc. in chemistry with a specialization in business at Leiden University, The Netherlands. As part of the master program, she focused on the synthesis of inhibitors for breast cancer treatment under the supervision of Prof. Dr. Mario Van der Stelt. She also spent 5 months at DSM Sinochem Pharmaceuticals in the marketing and business intelligence department developing a competitor database for the European market of antibiotics.Jessica joined the ETN-Charming project with the purpose of working in the development of the laboratories of the future. She considers that AR can become an aiding technology for enhancing the way we interact and learn from the world in controlled situations. She envisions the laboratories of the future aided with immersive experiences that emulate the reality of experimenting which would help reinforce the theoretical knowledge in a versatile way.