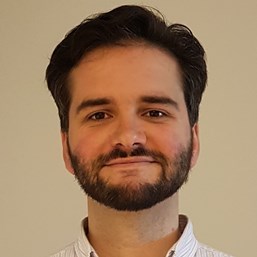 Pedro Santos - ESR7
I am an early-stage researcher in the work group Process Engineering for Sustainable Systems (ProcESS), at the Department of Chemical Engineering (CIT) from KU Leuven. My research as part of the CHARMING project is focused on improving teaching of process intensification tools, such as multifunctional reactors and hybrid separators, through the use of VR/AR tools.
I hold a MSc in Chemical Engineering by the University on Valladolid (Spain), and have worked as an intern both for Bayer Technology Services regarding user interfaces for data analysis, and for Faurecia Automotive Seating regarding supplier quality control. My previous employment was as a researcher for the Automatics and Systems Engineering (ISA) department of the University of Valladolid, on the field of advanced model-based process control.
I am interested in methodologies for efficiency increase, often through the use of novel technological tools. I have collaborated in videogame design as a personal hobby, and this experience leads me to believe that computer games can be used to help with the challenges that instructors and learners face during the learning process.